« I always said a CD was merely the physical embodiment of an IP licence... | Main | I get there in the end. »
January 05, 2005
Here comes old age.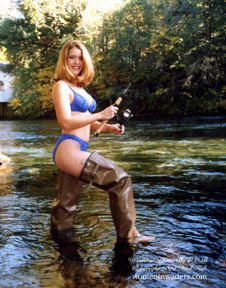 WomenInWaders.com somehow passed me by. I guess this is what happens when I stop reading boymags. Partly because they contain stuff like this.
I found this site as part of a google search to try and find a way of encasing 90% of my body in PVC. My entire torso, and arms. I may even need a gas mask.
The sad part is that this is because I need to finally sort out the silt at the bottom of our garden pond without getting covered in a million wriggly creatures.
I feel like I'm misusing the internet. Sullying it.

Posted by Tom Dolan at January 5, 2005 10:18 PM
Trackback Pings
TrackBack URL for this entry:
http://www.sparklefluff.com/cgi-bin/mt-tb.cgi/719
Comments
I went to Women in Waders, I don't mind admitting, for a bit of harmless titillation. However, I was soon distracted by a link to www.gunsandcamo.com – who wouldn't be?
Have a look on the homepage, there's a woman in a bikini who is clearly about to kill two lovely golden Labradors with a double-barrelled shotgun.
No need for that.

Posted by: Tim at January 7, 2005 06:58 PM
I have a gas mask, but no waders. Color me anarchist! ;^)
Posted by: Pimme at January 14, 2005 09:21 PM
Post a comment
Thanks for signing in, . Now you can comment. (sign out)
(If you haven't left a comment here before, you may need to be approved by the site owner before your comment will appear. Until then, it won't appear on the entry. Thanks for waiting.)